"As the painter, facing his canvas, forgets the image to think only of the painting; whether it's figurative or abstract. I progressively forgot the subject to see only one balance of forms and a relationship of colors. "
Through abstraction in photography, with a great rigor of composition to an even stronger rigor when the subject doesn't remind us of anything known, my photographs are the work of a moment captured without any retouching.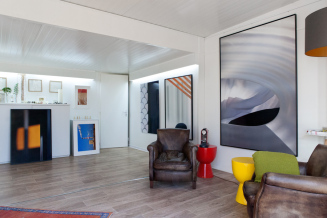 My long complicity with architectural complex allowed me to bring out the lines of force or suggestive details that our eye couldn't have discerned.
To achieve it, like a composer-director, I'm waiting for its Moment. If the luminosity allows it, I start looking for encounters, unexpected, the look and mind curious, on the watch. Thus, when I find or discover my "prey"; I turn around it, instinctive. I watch, search, track down to the detail, the shape, the catching element.
Then, when my eye sees the Subject, it doesn't let it go, scrutinizes it, analyzes it and composes it. It plays from bottom up in search of lines, balances, senses, colors, points of light. Finally, my eye captures it. The catch then radiates, vibrates and offers me a real enjoyment.
Abstract photography is a photography that reinvents movement by composing with light and color, it is for me the recognition in reality of a rhythm of lines, values ​​and plans.