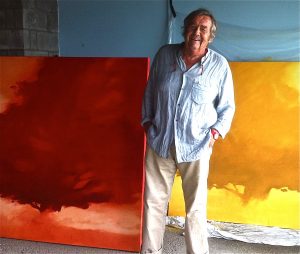 When the limits between Architecture and Art fade away
Roland De Leu is an Architect and Artist. Born in Belgium, he lives and works in Paris. If forms, spaces and volumes have no secrets for him, painting, drawing and sculpture are just as innate in his artistic life.
Having grown up in an environment of builders and artists, his career seems like a natural extension of his childhood. He studied at the Decorative Arts in Paris and begins directly his parallel life of architect – artist presenting his first architectural projects in Paris and New York while inaugurating his first exhibitions of drawing and sculpture.
His architectural talent: among its greatest successes, in 1968, winner (with A.Goddeeris arch.) of the competition design / production of  » 1000clubs of youth  » intended to be mounted on their own.
But also worldwide projects for major luxury brands, shop concepts for Dior, Celine, Sonia Rykiel … a hotel on the Kyoto hills, « embassies » for Mikimoto, great jeweler and world leader of pearl, in Japan, New York, Shanghai and London.
"Few boundaries between these disciplines, the same sincerity, the same taste for authenticity and ambition to be timeless" explains the artist.
In August 2012, as part of the contemporary art festival of the Alpilles, Roland De Leu creates a stunning mobile sculpture, a combination of wooden busts and bicycles, which since « takes the sun » in St. Remy de Provence.
His works range from abstract and figurative, combining poetry, emotion, and humor. It was also he who made the « world's largest » charcoal drawing the 5.00 X 6.00 m, directly in front of the visitors, at the exhibition « Merci, » concept store in Paris.
Drawings in Chinese ink, charcoal, lead pencil, oil paintings, Autumn Trees collection – a theme for which the artist has a particular affection – each drawing, each painting is a moment, an emotional moment of life, of his life.
Roland De Leu, architect, painter, draftsman, sculptor – All his compositions, either they are monumental – like some of his beautiful majestic trees – either small or nestled in boxes – all express this emotion before nature, this clarity in spaces and his vision of volumes. Each of his works is amazing and exciting, surprising by its lightness, humor and sometimes also by the choice of materials. It is demonstrated by his sculptures entirely made of piano pieces (« Pianologies« ) or plain wood (A couple, Cardinal…).
Let yourself be seduced and discover the world of Roland De Leu at the 33 Villa Moderne in Arceuil from March, 27th until 29th 2015, for a collective exhibition "open doors workshops" with Isabelle Girollet and Patrick Chaland.
Discover the universe of Roland De Leu and his collections on his website.