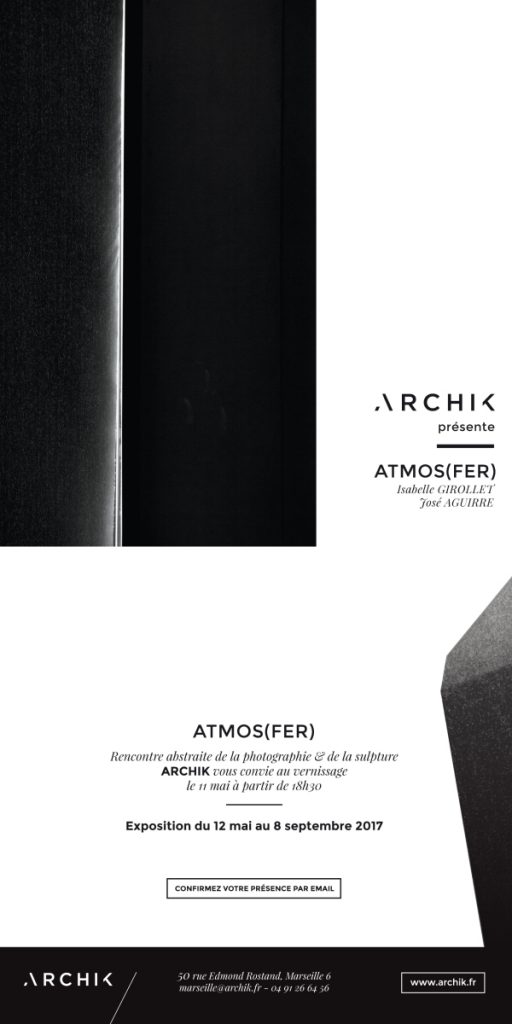 ARCHIK presents ATMOS (FER) I Isabelle Girollet & José Aguirre
As of May 12, come and discover the new exhibition, an abstract meeting of photography and sculpture.
To admire until   September, 8th 2017 at Maison ARCHIK!
It's the third opus for Maison ARCHIK. The agency that replaces the architecture within the real estate presents, at 50 Edmond Rostand Street, its new quarterly exhibition. After the designers NOVA OBIECTA and binōme, the photographer Isabelle Girollet comes on stage alongside the sculptor José Aguirre, from May 12, 2017. And because the first likes the city, buildings and factories, she naturally took her place in the universe of ARCHIK, always in search of places of exceptions and pieces of contemporary designers. José Aguirre, the sculptor, assures a strong presence and offers his vision in large format of the transformation of volumes and the work of steel. 14 works selected by ARCHIK will be presented at the private view, which will take place on 11th May from 7 pm.
This event is the opportunity to meet abstraction in photography and its sculptural response, and to acquire exclusive numbered pieces.
After Marseille, the exhibition, itinerant, will take its districts of autumn from the 15 of September within the House ARCHIK in Toulouse.
# ARCHIK | WHO ARE WE?
With this singular vision of bringing architecture back to the center of real estate, ARCHIK, a collector of style, intervenes on two sectors of activity: the sale of goods of character, and their renovation.
The Maison ARCHIK, mix of crude and chic, halfway between agency | Gallery | Show-room, embodies on 200 m2 the cultural spirit of the agency. Ephemeral showcases are scripted according to the artists and designers honored, and numerous thematic meetings are organized on regular dates.
Amandine Coquerel, creator of the passionate agency of architecture and design, and her team shares a common art of living. From a variety of backgrounds (cinema, decoration, finance, press…), all have in common their strong sensitivity to architecture and the urban landscape.
Address: 50 Edmond Rostand Street 13006 Marseille
Visit the website of Archik.