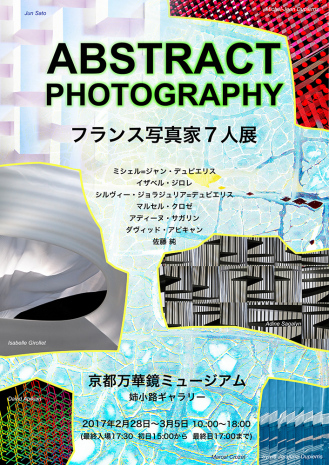 A voyage in Photographic Abstraction through the photographs of 7 French artists starts on February 28th until March 5th 2017 at Kyoto Kaleidoscope Museum in Japan. . The exhibition is organized by the Photo Section of New Realities, « a group that search an actual and abstract expression with photography. »
Isabelle Girollet will exhibit JUMPING, COSMOS, GARANCE, APLOMP, FORCE 4.
« With the camera becoming a brush, artists show the happy moments of urban landscapes or nature that turn into kaleidoscopes, poetic documents of everyday objects, superimposed colored waves of different textures, joyful rhythms of geometric minimalistic objects under a diverse light. « , Kuniko Abe Critique of art.
Many thank you to Jun Sate that organized all the trip for our photographies.
Dates: February 28th to march 5th 2017
Address: Kyoto Kaleidoscope Museum, Japan
Visit the website of the exhibition.
Discover Isabelle Girollet's collection on the official website.
About the Salon New Realities:
The Salon New Realities is the exhibition of abstraction; the artists themselves run it together in a New Realities Association.
The Fair takes place every year since 1946 in Paris.
It's objective is the promotion of art « commonly called concrete art, non-figurative art or abstract art. »
The Salon was founded in 1946 by the artist Sonia Delaunay, Auguste Herbin, Jean Arp … Relayed by passionate criticism the salon knows a quick success that has both geometric art, concrete through artists like Jean Dewasne, Victor Vasarely that non-figurative artists such as Pierre Soulages, Georges Mathieu, Vieira da Silva, or Robert Motherwell … see website