JP BARBANCE GALLERY Designer – PARIS
In the space Charonne's street, Jean Pierre Barbance gives again a place for Isabelle Girollet's photographs. Cosmos, CO2 and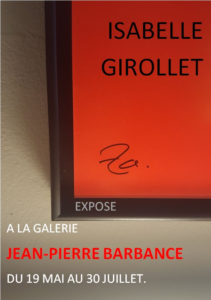 Jumping will be exhibited until July 31, 2016. An exceptional opportunity to discover furniture, lighting and art photography.
Jean-Pierre Barbance and Isabelle Girollet have a perfect resonance between their works. Isabelle's artistic photography and the design furniture and lighting of JP Barbance found a nice balance. Both in the purge, line, looking for material, aesthetics … An exhibition that you can't miss, until the end of July, on Charonne's street in Paris.
Dates: until July 31st 2016
Address: Design Gallery of Jean pierre Barbance
35, Charonne Str., 75 011 Paris, France
O9 83 90 87 84 / 06 14 40 17 20
Visit Jean-Pierre Barbance's website and blog.
Access: metro station Ledru-Rollin or Voltaire.